Congratulations to Year 11 Students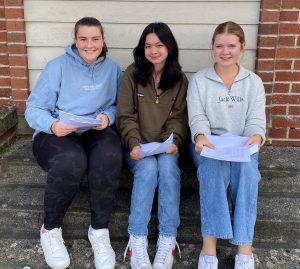 Ansford Academy is delighted to celebrate with students as they receive their GCSE results. Despite the unique and challenging circumstances that they have faced in the last few years, as well as the additional uncertainty created as grade boundaries returned to pre-pandemic levels, it is a pleasure to see our students achieve results enabling them to access their next steps.
Headteacher, Rachel Purnell, commented: "We have had a fantastic morning seeing our students receive their results. We are really pleased to see so many personal successes and triumphs with many students reaching their goals. We wish all of our Year 11 students the very best as they embark on the next stage of their education or future careers."
Many congratulations to all our students, who have worked really hard, and a huge thank you for the support of their teachers and families. Whatever the outcome for each individual student today, it is important for our young people to remember that they are more than a set of grades on a slip of paper. They have shown great resilience in challenging conditions and all of the staff here at Ansford are very proud of what they have achieved.
As always, we will look forward to hearing news of our students' achievements in the future as they will always remain part of the Ansford community and we hope they will stay in touch.
KS4 Performance: Academic Year 2022-2023 (Provisional Results)
Performance measures based on qualification results from 2022/23 cannot be directly compared to measures from 2021/22. This is because a different grading approach was used in 2021/22, to take account of the impact of the pandemic.
The government advises that performance data should be considered alongside a range of other information, and conclusions should not be drawn on a single piece of data alone.
| | | | | | | |
| --- | --- | --- | --- | --- | --- | --- |
|  Examination   Results 2023 (Provisional) | Progress 8 Score | Attainment 8 Score | Grade 5+ in English and Maths | Grade 4+ in English and Maths | Entering Ebacc | Staying in Education or entering employment |
|  Ansford   Academy | -0.44 | 40.2 | 32% | 54% | 9% | 97% |
|  Local   Authority   (Somerset) | -0.21 | 43.2 | 49% | 60% | 26% | 94% |
|  All Schools (England) | -0.03 | 46.2 | 45% | 65% | 39% | 94% |
Performance of Schools in England
The government provides information on all school and college performance; including exam and test results, Ofsted reports and financial information on their website here.
You can view our school performance data here.