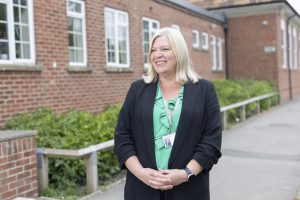 I am pleased to introduce myself to you as Headteacher of Ansford Academy. Having grown up in various small towns and villages in the South West, I was keen to move away to continue my education. Whilst I was the first member of my family to study for a degree, reading English at the University of Birmingham, the value of education and the importance of hard work was emphasised throughout my childhood and remain as guiding principles to this day. I completed my PGCE at the University of Nottingham and then took up my first teaching post at Tuxford School, Nottinghamshire, as an English teacher – a role that I have cherished ever since as it has enabled me to make a difference to the lives of young people, encouraging them to see the world in different ways.
Although I was quickly promoted to the role of Head of English at Tuxford, the call to return 'home' was strong so I relocated and have since worked in three further secondary schools in the South West, including ten years as a senior leader and most recently as the sole Deputy Headteacher at St Laurence School in Bradford on Avon. Throughout my career, I have chosen to work in comprehensive schools which value inclusivity and champion equality for all. I hold high expectations of students both within and outside of the classroom and am committed to ensuring that young people feel valued as individuals, supported and challenged to become the best version of themselves that they can possibly be.
As a mum of two boys of secondary school age, life is pretty busy outside of school too but I cherish the time that I spend with my family – whether that is exploring the wonders of the South West or simply streaming multiple series of American sit coms!
Rachel Purnell